Current jokes
Heart Murmur
An eighty-year-old man was having an annual physical. As the doctor was listening to his heart with the stethoscope, he began muttering, "Oh oh!"
The man asked the doctor, "What's the problem?"
"Well," said the doc, "you have a serious heart murmur. Do you smoke?"
"No," replied the man.
"Do you drink in excess?"
"No." replied the man.
"Do you have a sex life?"
"Yes, I do!"
"Well," said the doc, "I'm afraid with this heart murmur, you'll have to give up half your sex life."
Looking perplexed, the old man said, "Which half - the looking or the thinking?"
New Jokes
Getting Older
Three older ladies were discussing the problems of getting older >> more
Top Rated Jokes
Heart Murmur
One-liners
Early Sign
Random Jokes
Random Jokes on All Categories
Dentist
Tom: "What made you leave the dentist's office?"
Ted: "I heard the assistant say to relax, it's only a tooth were pullin'".
Tom: "Ok, so why didn't ya relax and get it pulled?"
Ted: "Cause she was talking to the dentist".
>> more
Funny Pic of the Day

Jokes Categories
<% Rs1.Open SQL,con Do while Not Rs1.EOF %> <% Rs1.movenext loop Rs1.close set Rs1=nothing %>
Services
Adult Medical Humour
Funny Definitions
Medical misquotes
Newspaper misprints
Conversations
overheard
Quotes & Quips
Caricatures
Slide show of the
humourous world of the
white coats... >> more

Today's Caricature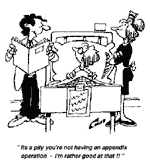 Newspaper Misprints